[News] Aesty Premium Cordless Flat Iron Reaches Its Initial Kickstarter Funding Goal of $10,000 In Just 15 Hours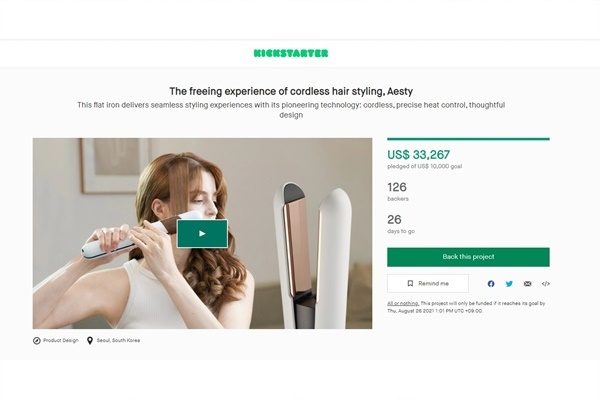 MANGOSLAB aims to begin revolutionizing the hair straightener industry with its very own cordless hair straightener, Aesty, which features a precise temperature control system, cordless design, ergonomic form factor and more.
Spun-off from Samsung Electronics' in-house venture C-Lab, the MANGOSLAB team created the ideal product they would want to use themselves, after being frustrated with other hair irons in the market. Leveraging the company's in-house thermal technology, their product Aesty successfully raised its initial Kickstarter funding goal of $10,000 in just under 15 hours.
'Aesty' kickstarter page│source-kickstarter
Powered by a 4-cell lithium-ion battery, Aesty delivers convenience and unrestricted styling movements with its cordless feature. Aesty's heat-resistant pouch allows users to store the product right away without having to wait for it to cool down.
Aesty's intelligent heat control system regulates its temperature 150 times a second, delivering even heating all throughout the styling process. Even heating allows users to achieve desired results with just one pass which minimizes heat damage significantly.
The MANGOSLAB team collaborated with their product development partners to develop the ideal design, encompassing the optimal size, grip and quality materials. With its premium titanium plates, hinge-less smooth design, Aesty received the 2021 Red Dot Design Award.
Finally, the heater, battery, and charging cradle are each equipped with multiple safety designs to prevent safety accidents and reduced product performance.
"You won't find this combination of features in any other flat iron" – Sue Lee, Product Manager
Additional features such as the dual heater, heating speed, hybrid mode and more can be found on the Aesty Kickstarter page. Backers who are interested in grabbing one for themselves are encouraged to reserve their reward as soon as possible, before the $199 early bird reward tier is sold out.
Aesty Premium Cordless Flat Iron Reaches Its Initial Kickstarter Funding Goal of $10,000 In Just 15 Hours | AVING NEWS